Wally Wang's Apple Farm
"The Growing Tablet Market"
by Wally Wang
NPD DisplaySearch expects
a massive surge
in tablet adoption over the next few years to the point where people may actually buy more tablets than ordinary personal computers. The company estimates that tablet shipments will grow from 81.6 million units in 2011 to 184.2 million in 2013.
Of course, when anyone talks about the tablet market, they're really talking about the
iPad market
as the iPad continues grabbing the majority of the market and the profits that go along with it. In the meantime, Amazon's Kindle Fire, the only Android tablet offering any kind of a challenge to the iPad, has seen recent
sales plummet
.
The Kindle Fire's main attraction is its low price ($199) where Amazon loses money selling them in hopes of making up the loss through sales of digital content to Kindle Fire owners. Often people buy a Kindle Fire, hoping to get the advantages of an iPad, and then wind up disappointed with the results. Since Amazon doesn't release actual sales figures of any of their Kindle devices, it's hard to say exactly what's happening other than the fact that few people believe that the Kindle Fire is superior to the iPad beyond its smaller size and lower price. If you just want an e-reader that can happen to perform other tasks, the Kindle Fire is fine. If you want a more versatile device, then the iPad is the better choice.
The only other challenge to the iPad were netbooks, and
sales of netbooks
keep plummeting. With the iPad and other tablets squeezing netbooks on one end and ultrabooks like the MacBook Air squeezing netbooks from the other end, netbooks simply can't compete any more. If you just want a small, lightweight computer, you might as well get an ultrabook or a tablet.
Figure 1. Sales of netbooks in the United States continues to fall.
Ironically, many people were buying laptops instead of desktop computers. With tablets like the iPad, people are finding that they don't need to lug their bulky laptops around any more when they can just use an
iPad instead
. Rather than buy a laptop for more money and compromise on a fixed keyboard attached to a small screen, people are buying less expensive and more feature filled desktop computers with much larger screens (or even multiple screens) and supplementing their mobile needs with an iPad.
The iPad is lighter and simpler to use on the go while performing the bulk of the tasks most people need. While some people need a full-featured computer they can take with them, most people don't. The end result may be a resurgence in desktop computers and a decline of laptop computers.
Whatever happens next, it's certain that iPads and other tablets are not going to disappear with everyone returning back to laptops and desktop computers all over again. The future belongs to tablets, and if you want to use the most versatile tablet on the market, you're going to have to use an iPad, which Chitika estimates represents
94.64 percent
of all tablets on the Internet.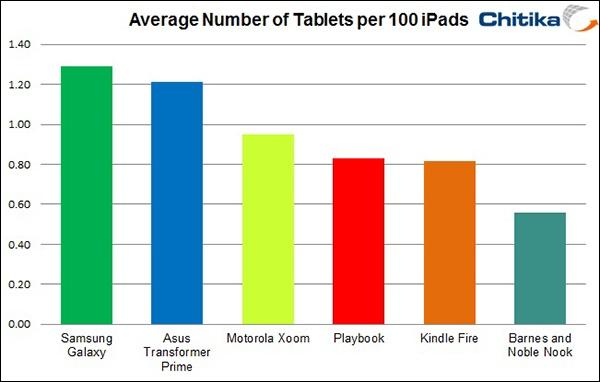 Figure 2. Rivals to the iPad are still selling far fewer tablets than Apple.
Given a choice between the higher resolution screen of the latest iPad or the less expensive price of the previous generation iPad 2, you might be tempted either way. One new compelling reason to go with the iPad 2 is that Apple recently switched to a
new processor
that uses less power, thereby increasing battery life by up to 30 percent. If price and long battery life appeal to you (and you can be sure of getting the latest iPad 2 instead of an earlier iPad 2 model), get the iPad 2. If a faster processor and better screen are more appealing, get the latest iPad instead.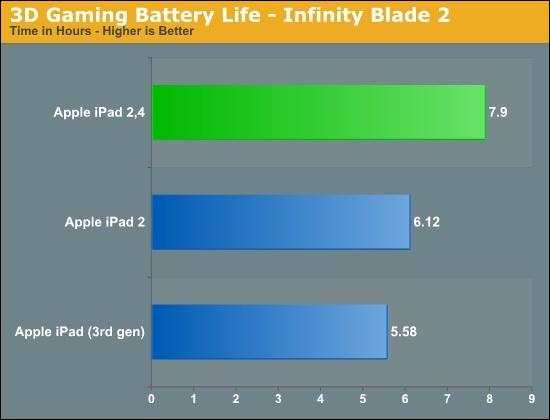 Figure 3. The battery life of different iPad models.
More Confusion From Microsoft
Microsoft never seems to run out of ways to keep confusing customers. Initially, Microsoft claimed that Media Center would be part of Windows 8. Now Microsoft has changed their mind and said that Media Center will be a
separate item
that people will need to buy if they want to play DVDs on a Windows 8 computer.
Why Microsoft felt that eliminating the ability to play DVDs in Windows 8 will keep their customers happy is puzzling. If this is true, then it appears that Windows 7 can play DVDs but if people upgrade to Windows 8, then they won't be able to play DVDs on the exact same computer. Obviously, this doesn't make sense, yet these question marks surrounding Windows 8 simply highlights Microsoft's problem in staying focused and delivering a consistent message to the public.
There's a reason why people trust brand names like Federal Express and Starbucks, it's because they know what to expect. When you throw customers' expectations out the window, you also risk driving your customers to competitors, which is the only consistent message Microsoft seems capable of delivering these days as highlighted by this
ZDNet article
.
Perhaps someone at Microsoft should read
The 22 Immutable Laws of Branding
by Al Ries and Laura Ries. "Marketing is building a brand in the mind of the prospect," the authors write. "If you can build a powerful brand you will have a powerful marketing program. If you can't, then all the advertising, fancy packaging, sales promotion and public relations in the world won't help you achieve your objective."
Does Microsoft have a powerful brand in the mind of the public? Or are they relying on fancy packaging and advertising to make up for their lack of compelling products? Think back to Microsoft's consistent advertising missteps including the
Bill Gates/Jerry Seinfeld ads
, the
Internet Explorer vomit ad
, and the
Microsoft Kin sexting
ad controversy. With so many problems trying to define themselves, you have to wonder if anyone at Microsoft even cares about the company any more. Apparently Microsoft executives feel that running bizarre ads is the way to sell more products, rather than creating products that solve useful problems and meet people's needs in the first place.
Learning JavaScript
If you plan on developing Windows 8 Metro apps or creating interactive widgets for iBooks Author, you'll need to learn HTML5 and JavaScript. Unfortunately, JavaScript mimics the cryptic syntax of the C programming language with lots of curly brackets and symbols that look like a cat walked across a keyboard.
As an alternative, take a look at
CoffeeScript
, which basically simplifies the convoluted JavaScript language and makes it shorter and easier to read. Best of all, CoffeeScript creates equivalent JavaScript code so CoffeeScript actually is JavaScript in a roundabout way.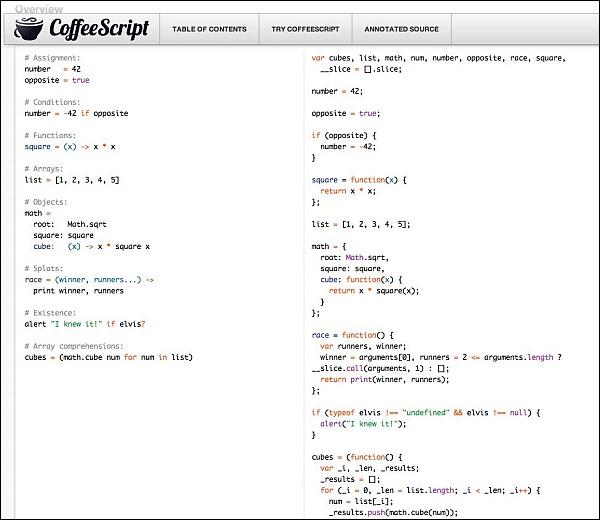 Figure 4. CoffeeScript (on the left) lets you create JavaScript (on the right) but without the complicated syntax.
To help you learn the nuances of CoffeeScript, pick up a book like
CoffeeScript: Accelerated JavaScript Development.
By learning the basics of CoffeeScript, you can indirectly learn the basics behind JavaScript. Then you can choose to learn the specifics of JavaScript or just stick with CoffeeScript and let CoffeeScript turn your code into JavaScript. Whatever you decide, the ability to program in JavaScript will prove handy whether you're in the Windows or Macintosh world.
The Avengers
In case you haven't noticed it yet, Hollywood has discovered that the iPad can be a tremendous marketing medium in ways that netbooks could never match. If you watched the movie
The Avengers
currently packing movie theaters around the world, you might be interested in the free
Marvel's The Avengers: Iron Man = Mark VII
app.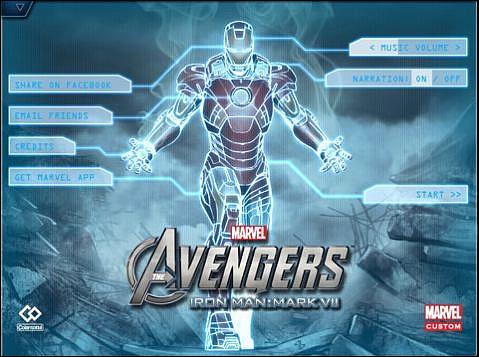 Figure 5. The Avengers app about Iron Man.
Basically this app just displays the history behind Iron Man in a colorful comic book. The main idea is to get people excited about
The Avengers
movie so they'll want to buy more Marvel Comics related materials such as this 99 cent game
Captain America: Sentinel of Liberty
or
Thor: Son of Asgard
.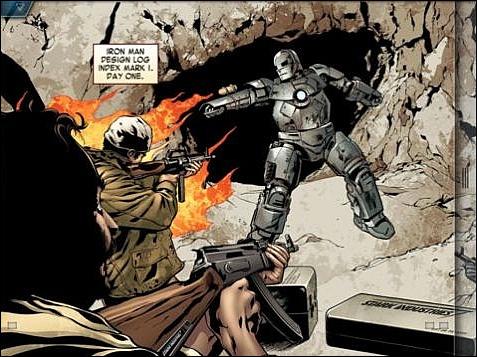 Figure 6. You can read a short comic book detailing the basic story behind Iron Man.
If big companies have discovered the potential of the iPad, smaller businesses can certainly use their creativity to find ways to use the iPad to market their business as well. All it takes is a little bit of imagination to see the tremendous potential behind the iPad for both individuals and companies alike. For those who still insist that the iPad is useless or that rival tablets are far superior, Hollywood's marketing campaigns are already ignoring you and pretty soon much of the rest of the world will ignore you as well.
What Makes Apple Successful
Time Magazine
recently listed six reasons why
Apple succeeds
while rivals not only stumble, but shoot themselves in the foot consistently with an Uzi submachine gun.
1. For any product that Apple creates, the people who create it have to want it themselves
2. The products have to be easy to use
3. Keep things simple
4. Offer great customer service and in-store experiences
5. Apple only makes a product if Apple can do it better
6. Apple stays at least two years ahead of its competitors
Do you think anyone at Microsoft really wants to use Windows on a computer that's already cluttered with trialware versions of antivirus programs that you'll have to remove and then take the time to optimize the Windows registry to get a clean system that you should have gotten right at the beginning?
Does anyone at Microsoft want to get help fixing their computer by calling a technical support hotline, talk to somebody reading a script on the other side of the world, and answering questions using technical terms you don't understand, to perform technical tasks that you don't want to follow?
Oddly enough, Apple is the most successful American company in the world, yet so many Americans hate them. Then these same Americans turn around and cheerfully support companies that sell them computers loaded with multiple Windows registry errors from the start, which will only get worse over time without constant maintenance.
Obviously anti-Apple critics don't hate successful companies because otherwise they would hate Microsoft. Instead, their hatred of Apple must simply be irrational thinking on their part based on their resistance to anything different. If someone from Apple personally came to your house, punched you in the face, kicked your dog, burned down your house, and stole your car, then you might have a reason to hate Apple. But to hate Apple because they sell products that you don't want to buy simply proves that single cell amoebas often exhibit higher intelligence than many human beings on the planet.
The Dying PC Magazine Market
While strolling through a local Barnes & Noble bookstore, I glanced at the computer magazine section and found most magazines covered the Macintosh, iPhone, or iPad with even a few Android, Amazon Kindle, and Blackberry magazines thrown in there. Yet out of this entire computer magazine section, I only saw two PC related magazines.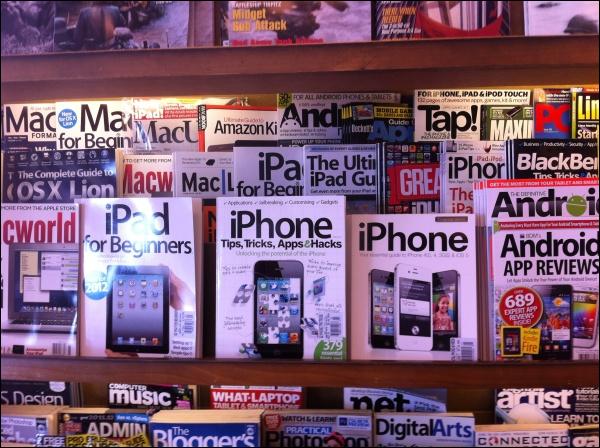 Figure 7. Can you find the PC magazines on this magazine shelf?
At one time, nearly all computer magazines focused on Windows and the PC world. Nowadays, it seems that even computer magazines are focusing more on mobile devices and less on the Windows computer world. The next time you visit one of the few remaining bookstores in your area, take a look at the computer magazine section and see how many magazines focus on Apple products compared to Microsoft products. Most likely the difference will be obvious, which indicates the trend that the world is going these days.
Odd Statistic of Smartphone Users
According to Nielsen, white people are in the minority when it comes to
smartphone adoption
. On the other hand, Asian-Americans tended to have higher smartphone usage followed by Hispanics and Blacks.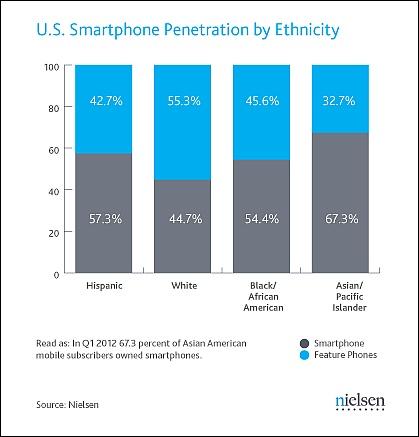 Figure 8. White people are least likely to use a smartphone.
One theory is that minorities are less likely to have high-speed Internet access at home so they're more likely to rely on smartphones to get on the Internet. Another reason might be that there are more older white men and women who are less likely to use a mobile phone at all.
Whatever the case, this latest statistic demonstrates that although white people tend to be more affluent than other groups, greater wealth doesn't always translate into buying the latest gadgets. Perhaps a more interesting study might be to determine the same demographics for Macintosh computer usage and then we can see if white people are also the slowest in adopting the Macintosh as well.
* * *
If you need to select multiple files in the Finder, you have two choices. First, you can hold down the Command key and click on each file that you want to select. Second, you can click on the first file you want to select, hold down the Shift key and then click on the last file you want to select. Now your Macintosh will select every file in between the first and last file you clicked on.

www.computoredge.com