Some Clouds Can Block the Sun!
"Cloud Computing"
by D'Artagnan Fischer
The latest buzz word that seems to be filling the media is Cloud Computing. The term has become more than just a buzz word as it has finally made it into several dictionaries. The Collins English Dictionary seems to have one of the shorter and simpler definitions where they define Cloud Computing as "a model of computer use in which services stored on the Internet are provided to users on a temporary basis" (Collins English Dictionary, 2009). This definition sounds a lot like someone having fun adding a new name to something that might have already been there before the name was popular.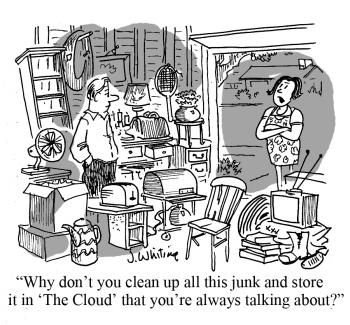 The real intent of Cloud Computing is going beyond the Internet that we have all come to love and enjoy. The previous vision of the Internet was such that one could access it from anywhere, but the place where we kept all of our data was at home or in the office. The current vision of Cloud Computing is that one can access the Internet from anywhere, but now you can have your data wherever you are too! The idea is to make it more practical for portable hand-held devices to access important information without any real need to store the data on the device. The side benefit is that you can also travel without a computer, and simply use whatever is handy to access your data. Note: This is still a simplistic vision of Cloud Computing, there is still more to it. Whether that is important or not remains to be seen.
Evolution of Cloud Computing
Although the concept of Cloud Computing is solidly entrenched in our blossoming world of technology, Cloud Computing is still evolving. The Cloud Computing concept itself is solid, but the aspects of how best to back up the data, how to keep the data secure, and even what the ultimate product offerings will be is still very much an on going process. Just because your favorite major vendor is advertising their move to "the cloud" does not mean that all of the issues have been
completely
addressed. I stress "completely," because there are definitely still glitches inherent in the system that do require the refinement that only time tested usage can bring about.
Recommendation: Go ahead and use The Cloud, but do
not
depend on it completely just yet.
The Simple Things
Cloud Computing is certainly safe for the simple things. Meaning the simple access to data, saving files that can be accessed from anywhere, or even the syncing of data between numerous digital device. It all works really well! This does not mean that you should never back up your data again, or figure that since you backed up your data to The Cloud, that you will not lose it. Realize that Cloud Computing is a fantastic tool to use, and it works great, but one still needs to back up (and keep safe) the things that matter the most to you. I'm just playing devil's advocate here, but imagine if you put all of your faith into some Cloud Computing vendor, and that company has a catastrophic failure, or worse still, they go out of business, then what do you do?
Security
We all get the fact that being able to save one's data on the Internet does present some definite advantages, especially if one wishes to be truly mobile with any device of their choosing. However, one aspect of Cloud Computing that is definitely not a given (yet!) is the subject of security. Sure, one can encrypt their data before saving it to The Cloud—vendors are boasting that they will keep your data secure—but the question of the day is, "Is it enough?"
The following illustrates a couple of realistic scenarios for you:
You sign up for Cloud Computing services moving all of your data over to the vendor securely, and life is good. You have access to your data from anywhere and everywhere. You feel confident that you are as secure as can be. In a sense, you really are secure. However, a major business conglomerate from another country buys up the company that you have been doing business with. They keep things quiet, no real press to speak of, and during the off hours, your data is meticulously transferred to the server infrastructure in the new company's home country. All is fine and good, and as a customer, you are none the wiser that your data was ever moved. It all looks the same to you, and maybe access to the data is suddenly faster than ever. So, now the United States is suddenly at odds with the country where your data was moved to. Even worse still, maybe the U.S. is at war with that country. Do you still think your data is "safe?" Let's move on to the next scenario.
You happily migrate all of your data to your favorite Cloud Computing vendor. The vendor is reputable, has a proven track record, and life is good! The vendor keeps redundant copies of data across the globe to rule out losing data due to failures and such. In a sense, there really is no way the data could be "lost." A more common security model for a normal business network tends to be to increase security by blocking malicious networks, computers, or even entire countries, just to make sure that the riff raff cannot even access the data on the network. And, from your own personal perspective, your personal data would not have even been remotely accessible when your computer was turned off. However, now that you are on The Cloud, your data is accessible to more and more locations around the world. Furthermore, with a vendor offering redundancy around the globe this can be more and more locations that the bad guys can hack into to get at your data. Still feel safe?
Clarification
At this point, one might think this article is directed at keeping people away from Cloud Computing, and it truly is
not
! In fact, I am personally a big fan of Cloud Computing. I believe Cloud Computing is the wave of the future, and really where the world is supposed to be. However, the aspects of security, system redundancy, and even the contingencies associated with doing business across borders, is all still being refined as we speak. The controls and backup systems in place today, should give some peace of mind, but none of that should replace the basic need to proceed cautiously. Being the first person that you know to embrace Cloud Computing might not be the best choice, but this is definitely where the world is moving, so just be sure to move forward carefully!
Some Positive Scenarios
Since we have covered some of the possible horrors of Cloud Computing, it is only fair that we also talk about some positive scenarios:
A business is looking to put real time computing or order processing capability into the hands of a mobile work force. The latest tablet/pad computer includes cellular and Wi-Fi, so the user is always connected no matter where they are. (Yes, there still are places where one cannot get connected in the world, but that is another story.) Being "connected" means that data does not need to be stored on the local device, and can be stored on a company site. In this case, the company site is a location in The Cloud. In this configuration, the company has just mobilized their work force with real time data access. A sales company would be able to process orders when they happen, or even to check stock precisely when needed. A doctor could pull up key patient data when and where needed. A researcher could access major research databases, and update them even, whilst sitting in the jungle (assuming that a connection can be made). And on and on.
Another scenario, as I eluded to earlier, is the fact that one could truly travel without a computer. We have all seen the weary traveler (or have been that traveler), that lugs around a heavy computer in order to get some work done while traveling. Fortunately, portable computers have become increasingly lighter! However, now they can be magnitudes smaller and lighter (such as a pad), because one does not need to store all of their data on the device, but instead can pull it from The Cloud. Personally, I get excited by the prospect of a connected world with connected devices, and even the prospect of not even needing to depend of a particular computing device. Now, because of The Cloud, the advent of being computer neutral is even more possible and practical than ever before.
Conclusion
This is by no means the end of the story. Cloud Computing is destined to evolve into some fantastic forms of innovation for the future. Security is always a concern when there are those in the world that are bent on abusing and misusing your data. Just make sure to never stop backing up your important data, be sure to be watchful of when and where you store your data, and simply be careful in everything you do! Never be the first to adopt any new technology, and if you are, just do not put all your eggs in one basket, at least until you
know
that all the bugs have been worked out.
---
D'Artagnan Fischer has been a Technology Manager for a major accounting firm, a senior systems administrator, an Enterprise Consultant, has worked for DHS, the Navy, and even San Diego City Schools. His main interests are computers, technology, and digital photography. He also enjoys writing Science Fiction stories, and dreams of one day having one of his stories made into a movie. He lives with a menagerie of animals, and is in the process of growing a family.

www.computoredge.com
Comments and Letters about Some Clouds Can Block the Sun!
"Cloud Computing"
by D'Artagnan Fischer
Cloud Computing
"The current vision of Cloud Computing is that one can access the Internet from anywhere, but now you can have your data wherever you are too!"
The twenty-five year old Electronic Communications Privacy Act means the authorities may access
all
third party stored e-mail (hotmail, yahoo and Gmail) and file content (your documents), without warrants if it's older than six months. The law considers as abandoned any files housed on any third party servers for more than six months.
Read more at
Wired.
But if you are doing nothing wrong, you have nothing to worry about.
—C Farmer, Broomfield, CO
Cloud Computing
I enjoyed this article very much. Nothing about the wordage Cloud Computing had clicked with me until now. This article is clear and makes sense to me, and now I can share.
—Barbara Lutnick, Yuma, Arizona
Cloud Costs and Usability
I'd like to know more about 1) Cloud costs (plus contact info for the providers), 2) what drivers must be added, 3) what network changes have to be made (including at the router), 4) how to get around the access speed problem since the Internet is slower than a local hard drive (backups might take forever; video/audio work with Final Cut and Pro Tools are bottlenecked), 5) exactly how to connect to the Cloud using the various platforms (*nix, Mac, Windows, OS/2-eCS), 6) does the Cloud look like another hard drive as far as software is concerned and if so what is the path spec (especially maximum length and disallowed characters), 7) what if any are the relevant RFC's (www.rfc-editor.org, the word "cloud" shows up in the titles for RFC3056 and RFC6208 but there are likely other relevant RFCs). Thanks much!
—Peter, Los Angeles


www.computoredge.com